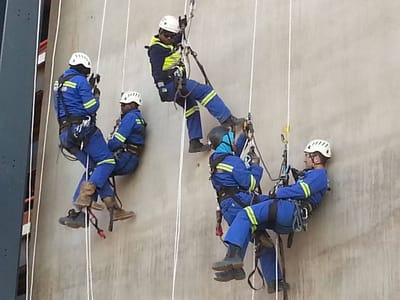 About Us
Welcome to Matovu Skills Training Center's website
as we are dedicated training providers in the mining operator and safety courses.
We are a private restored company and accredited by SETAs like TETA, HWSETA and department of labour. With four years experience in this industry, has helped us train more than 1000 learners, 50 private companies and government institutions.
We offer a comprehensive range of mining operator courses and safety courses.
We are a training Provider who specialize in training the general public on how to safety operate Lifting machines/equipments such as Forklifts, Mobile Crane, Gantry cranes, Truck Mounted Cranes, Telehandler, Reach Stacker, Reach Truck, Over-head Crane, Tower cranes etc.
We also train in Earth moving operations such as the training of TLB (Tractor Backhoe Loader), Excavator, Graders, Dump Truck, Rollers, Bob Cat, water tanks, etc
Drill Rigging, LHD Scoops, Underground support technicians, Safety officers, Fitter and Turners.
We also have other courses such as Firefighting, Safety officers, Diesel Mechanics, Safety Representatives, Occupational health and safety, First Aid.
We are so proud of having trained hundreds of students from across the whole continent, from Malawi, Botswana, Mozambique, Nigeria, Ghana, Zambia and the number continues to grow every day.Services Provided
plumbing services, forklift training, fire fighting training, first aid training, first aid training courses, boiler making training, electrical training, tlb training, audio visual equipment, occupational health and safety training, chain saws, welding schools, scaffolding, bricklaying services, grader training, forklift training colleges, , safety officer.
Assessment Center
We are also registered as an Assessment Center. This enables us to offer refresher training. This is a training required to evaluate and assess the competence and production levels of an individual who already has prior skills in a particular field/operation.
For Certificate renewals, and for certifying those who have never received any certificate but have years of experience in operating the machines, we can assess you and certify you.
Training Provided
We have lots of training. With picture illustrations, you can find a list of our training on the main page [Home Page]. From the [Services] page, you will find an explained list of the courses we offer. Our training do not aim at providing the skills needed for one to operate a machine. We also look at training people on managerial and administrative officers to work in the highly demanding mining and construction industry